This series starts with a young woman who was clearly caught up in all sorts of craziness. She has no family, blue hair, wicked fighting skills and delivers teeth to a bunch of chimeras on the other side of a magical door. Yet for some maddening reason knows nothing about anything.
I rolled my eyes.
Clueless protagonist, classic fantasy tale set up. Fine, it works, but that doesn't mean I have to like it.
And then she meets the guy…He is of course super tall, super gorgeous, super mean looking, and, oh yes, an angel who's in the process of trying to kill her. Of course he doesn't because a thread of warm, fuzzy feeling pierces his cold, rotten heart once he gets a good look at her.
*cue eye rolling*
But…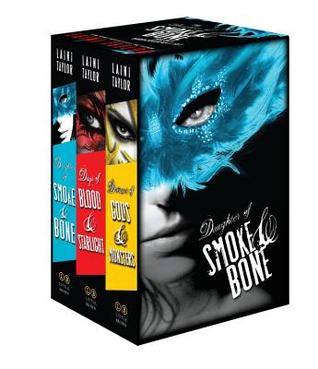 Perhaps it was that I am always a sucker for a fantasy/romance/young adult or perhaps it was that the clueless protagonist and the otherworldly gorgeous man thing just works.
Or perhaps it was that once we got into the story and the main character got clued in (Not how I expected either!) and we learn more of the back story, everything was just different enough from the norm that I was willing to leave my eye rolls behind and fall headlong into the tale.
Would I recommend it? I actually ran across this series on a list of YA books for people who don't think they like YA. And I have to say, for a young adult book it's not heavy on the young part. The main characters are more college age and … errr …. up (Nobody really counts how old when you are talking angels…or .. resurrected souls in chimera bodies, right?).  Angel ages aside, I would agree, young adult fandom is not required for this one.  There is even a pleasing and almost surprising amount of depth for a young adult, fantasy/romance read. You probably should like fantasy though, what with the multi-world thing and the angels and the resurrected chimera (which come in all sorts of animal/human configurations) and the magic and the wishing and all that. Give it a try, even if the first few chapters make you roll your eyes and scoff, give it a chance, it gets better.
Much better!
Hey did you know that not only do I love books but I love sharing books too!?! November's Book at the Door giveaway is open- come and enter I'd love to send you a book too!!!