This month's Book at the Door winner is… 
… Jenny from Life with Three Boys and a Splash of Purple!
Jenny correctly identified the first line of The Sweetness at the Bottom of the Pie and will get a copy of the book and the first line art mailed to her!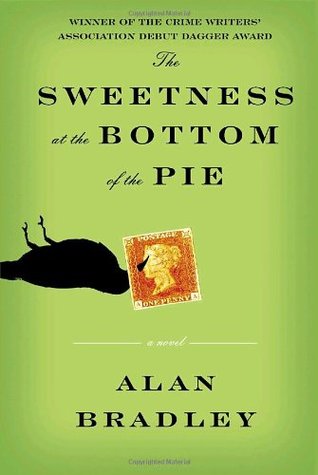 I still highly recommend you find your own copy of The Sweetness at the Bottom of the Pie.
While the book starts out dire…
…it quickly becomes apparent that the eleven year old girl locked in the closet has been stuffed there by her sisters.
Flavia is no ordinary eleven year old though. No, she's a grand chemist with a passion for poisons and when she's not conducting experiments she's busy solving murders and harassing adults with her precociousness.
Would I recommend it? Of course! I'd also recommend that you then look for the next one in the series.  There are seven adventures with Flavia published (with an eighth to come out later this year) and I have loved them all!
---
Book at the Door winner was chosen using a random number generator from http://www.random.org 
Artists of all kinds (Yes, you photographers and you who says you can't draw and you who just wants to practice hand lettering and you who is selling paintings online and…all of you!) if you are interested in providing a small piece of work that includes a first sentence I would love to hear from you!  
Authors, have I read your book and tagged it as a recommended read? Would you like to donate a hard copy? Let me know!