It has come to my attention that not everyone innately understands the merits of books about a private investigator in a town full of people with super human abilities.
This is baffling to me.
I can only suspect it is my tendency to babble and throw my arms about when excited that confuses people and distracts them from the topic at hand. So let me explain in the written word…
Dane Curse is a small time private investigator. Not just any old PI but the type that brings to mind old radio shows:
"The door swung aside and in walked a woman. She had a long, flowing overcoat atop a tailored black suit that hugged her hips like an old friend it hadn't seen since high school. Her broad brimmed hat cast a shadow over a pair of almond eyes so smokey they could teach a Navajo communications course, and with two full lips as red as the menace that scared my ma she said, "Mr Curse? I'm Mandy Marcus." – The Coconut Swindle
The difference is that Mr. Curse happens to have super strength and invulnerability and when Mandy Marcus (aka The Widow) shrugged off her jacket, she had four arms underneath.
While I love the idea of a PI working in a town full of super heroes (white capes) and their counterparts (because seriously, how fun is that) that isn't even the best part. The best part is Dane Curse himself. Former black cape turned PI for the "bad" guys and their families. He's not got great luck, but he's good with brute force and persistence.  And while he might kinda, sorta, still be a tiny bit of a bad guy, he's still doing his best to do right by his clients.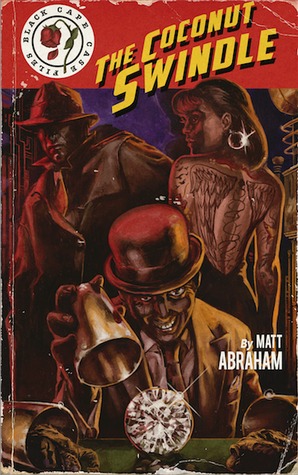 Would I recommend it? Heroic villain anyone?
Yes.
Yes, is the answer you're looking for.