The worst thing about this whole Medoran Chronicles series, of which Raelia is book two, is that the author, Lynette Noni, lives in Australia.
I on the other hand live in the USA, far from Australia. So far from Australia that hard copies of her books aren't even sold here.
This is a terrible problem because these are books that need to be shared.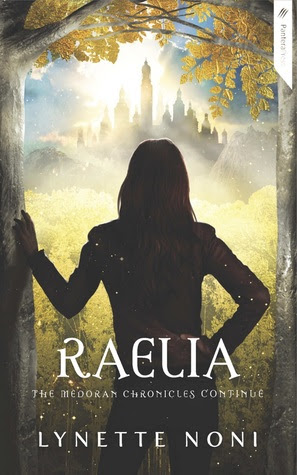 These are the kind of books that I want to be able to loan to the next young adult who walks through the door.
These are the kind of books I want to hand to the next adult who enjoys YA fantasy.
These are the kind of books that I want to lend my Harry Potter fan friends.
Then I want to pass them off to a person who claims not to like fantasy but that is enough of a reader that they will give them a try when I tell them how great the characters are.
And then, once everyone is done gushing, I want to put them nicely on my bookshelf where I would smile fondly at them whenever I passed by until the next reader dropped by my house looking for a good book.
Would I recommend it? Not only would I recommend both Raelia and Akarnae (which you should really read first) I encourage you to buy them, especially if you are outside of Australia. Perhaps then, one day, we'll get some paper copies on the shelves here!
Also, if you, like me, are fond of "real" books come check out my Book at the Door giveaway, I've got books to share!